The ADDIE Model is an instructional design methodology. Instead of leaving instructional designers to just do their best, the ADDIE process offers a step-by-step framework to assess training and educational materials using an ADDIE model template and ADDIE methodology to evaluate the process and the results.
The ADDIE model takes its name from the steps involved. ADDIE instructional design, also known as A.D.D.I.E. methodology, is built around the steps of analysis, design, development, implementation and evaluation. The ADDIE training model is similar to the Kirkpatrick model in that it uses a structured process to evaluate training programs. In other words, the ADDIE method is an instructional design model intended to offer a framework for the building and assessing of instructional design.
The ADDIE model of instructional design was one of the first instructional design models developed and quickly became a gold standard. Now the ADDIE training method is widely used to provide a skeleton for all types of instructional design materials creation, and the ADDIE training model is used around the world in teaching instructional design.
New instructional designers or trainers wondering what is the ADDIE process can read on for an in-depth look at its component parts. We will describe each phase of the ADDIE model so that you understand what each component entails. Feel free to save this page for your records so that any time you need a quick refresher you've got one at hand. That said, onward!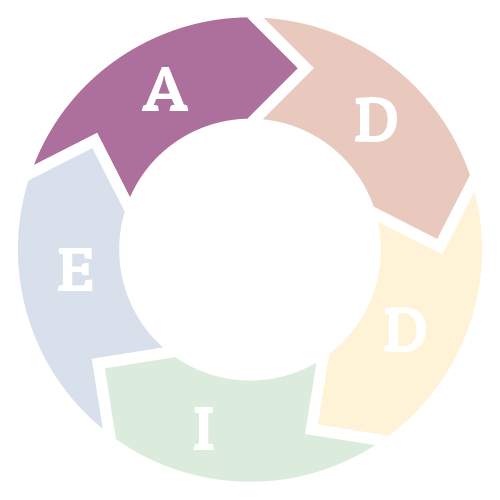 Analysis Phase
The first and arguably most important phase in the ADDIE model is the analysis phase. The ADDIE model analysis phase is where you will gather all of the information you have at the outset of the project to define your approach.
This information includes:
Instructional objectives, or what you wish to teach to the students
Who the learners are, their abilities and circumstances
The setting and model of information delivery (online, classroom, workplace?)
Teaching considerations and barriers to learning
The timeline you're working with
Keep in mind that although ADDIE model evaluation is its own step, it also comes into play at every step along the way. Because the ADDIE model was designed to be flexible and useful in all types of training materials development, it is important that instructional designers are able to modify their plans and their progress at any stage. Therefore, once you have clarified your objectives, your main student profile, your learning environment, your desired outcomes and so on, it is time to sit back and reflect on each.
Questions to ask yourself include: Have I correctly identified who the target student it? Are the instructional objectives in line with the training materials? Are the instructional objectives in line with the student's starting point, or ability to grasp the materials? And will they be useful in the student's line of work or for the tasks they must perform on a daily basis? Of course, this is just a sampling of questions. Try to come up with an exhaustive list, then check all the profiles and information you developed in the ADDIE model analysis phase against these questions.
If anything doesn't jive, fix it before moving on. The ADDIE analysis phase is your foundation, so you want to get it right.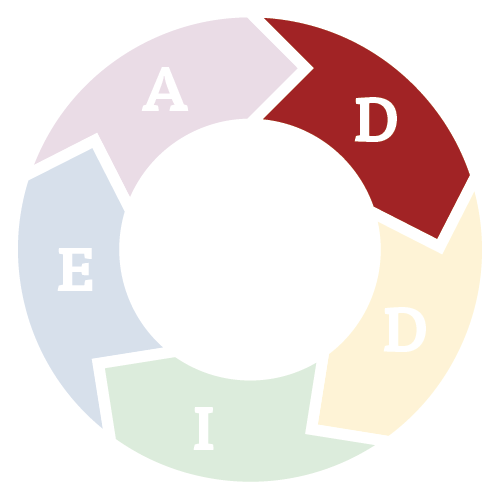 Design Phase
The design phase of ADDIE is where you will take all the information you accumulated above and start using it to define an approach to teaching the desired materials to learners. ADDIE design is a systematic method for putting various teaching tools in place to create an overall approach to individual lessons and subject matter as a whole. In the ADDIE model design phase, you will begin to define concrete components of the training plan you will develop.
These include:
Learning objectives, which are similar to instructional objectives, but detail what the student should learn rather than what the materials should teach (for instance, if you want to teach use of a program, the students should learn to boot it up, open files, perform tasks, save files, etc.)
Assessment instruments, or what you will use to ensure student learning is on track (i.e. written tests, reflections, performance tests)
Content and exercises
Lesson planning
Media selection, or how you will get the information to the student