Team
These are the grins that make Lessonly so dang special, with bios by Max.
We're hiring! Learn about our current openings here.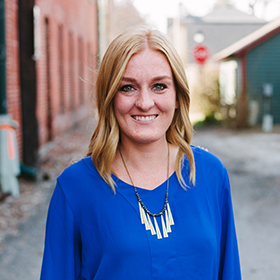 Jacey Abney
Client Experience Manager
Jacey and I both grew up in Goshen, Indiana. We were two years apart grade-wise, so I did not know her well, but she always stuck out as someone with a sharp head on her shoulders. My sister, who is about as perfect and fair as they come (my brother and I caused enough trouble for my parents), gave Jacey the ultimate vote of confidence when she moved back to Indiana from Illinois: "Jacey is one of my favorite people in the world."
We hired her, and that has proven to be a great decision. She's patient, thorough, and not one to let to-dos fall through the cracks; plus, she makes solid jokes.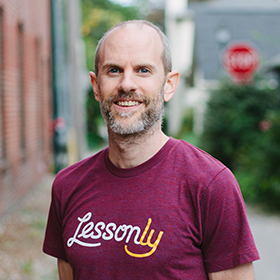 David Baldwin
Senior Engineer
When David joined the team, a friend of mine said, "I am so jealous. I've been trying to hire that guy for years."
David is a warm and thoughtful engineer, with tremendous experience and leadership that we benefit from every day.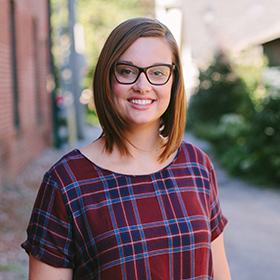 Joanna Brenneman
Customer Support Specialist
The first thing you'll notice about Joanna is that she is very observant. Curious and super detailed, she is the reason our average response time to customer support tickets is under a minute.
She also knows everything about the Indianapolis restaurant scene, which is super handy when the weekend rolls around and you need some plans.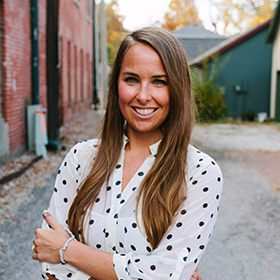 Karlie Briggs
Client Experience Manager
Karlie and I met at a house party a couple years ago via a mutual friend named Haley. I remember leaning over to Haley after rapping with Karlie for fifteen or so minutes and asking, "Is she always this great?" The answer was yes. So, as soon as Corey suggested hiring another person on the client experience team, she immediately came to mind. Fortunately, she agreed.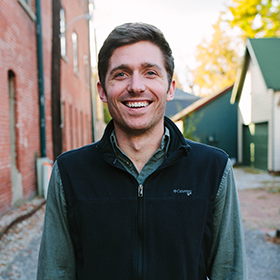 Conner Burt
Chief Operating Officer
Before we worked together, Conner and I shared a tiny apartment in Broad Ripple Village. Spending time with him made me a better person, and it left me in awe of his work ethic. When it came time to hire somebody to lead our partnerships and sales efforts, Conner was the obvious choice. Today, he oversees marketing, sales, partnerships, and client experience. Conner lives in Indianapolis with the love of his life, Lena, and a placid dog named Titan.
Before you get lost in the woods (or in a business), make sure Conner is with you.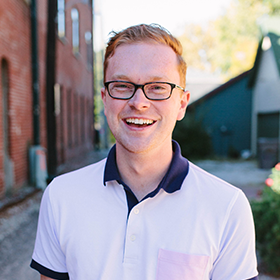 Matt  "Sheriff" Caudill
Solutions
Matt is dry, even when it rains. He was introduced to our team by my dear friend, Jon. Jon is the funniest guy I know, so I was not surprised when I met Matt and his wit was sharp as a katana.
Matt started at Lessonly as an intern; then, we hired him full time as a writer. Now, he manages our sales and marketing systems. God only knows what he'll be doing this time next year. Make Matt the butt of your joke sometime, and see what happens.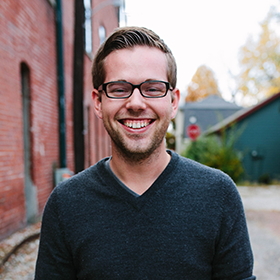 Mitch Causey
Director of Marketing
Mitch helps folks understand what we do, how we do it, and why. He's married to Elyse Causey, who leads Indianapolis's School of Rock, which is my way of telling you that he out-kicked the coverage by an astronomical unit.
Mitch does not stop smiling. Neither do the people around him.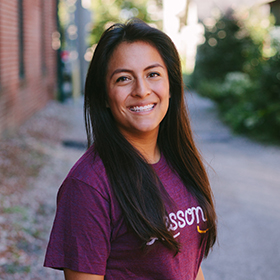 Lesley Chilton
Sales Development Representative
Conner and I were together when we first interviewed Lesley. She won Conner over immediately with her history as a top-tier soccer player at the University of Dayton.
She won me over by approaching her work with focus and maturity—she is well beyond her years when it comes to the way she handles pressure. I was never an athlete, but the more I work with them, the more I appreciate so much about their work ethic and team-oriented approach to getting things done.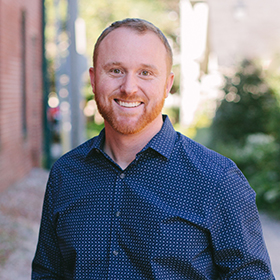 Justin Clifford
Director of Sales
Before we hired Justin, he sent me a book called Traction in the mail. He came up in many conversations, and there were a few Justins that we were interviewing at the time, so I started calling him Traction to ensure I was talking about the right one. Traction brings detail to a sales team that has traditionally been run in an entrepreneurial fashion. This is super important as we grow, and I am very grateful for his ability to introduce new approaches gracefully.
I was the first person to find out that his wife, Natalie, was pregnant. He approached me at my desk, after hours, when the place was empty. It was a very special moment.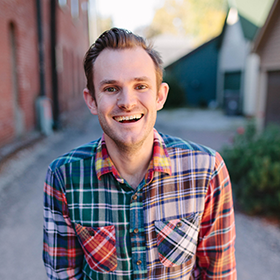 Scott Cook
Account Executive
Scott Cook climbs, both physical structures as a rock-climbing coach* and personal hurdles as the wonderful, diligent person that he is. I have made a lot of mistakes in my time as CEO; waiting so long to hire Scott is up there among the worst. I am just grateful he had enough patience for me to get my act together.
*One of Scott's nine-year-old rock-climbing students is ranked tenth in the United States.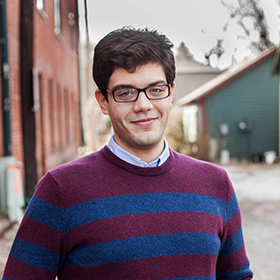 Waseem Dahman
Interface Designer
Waseem's LinkedIn profile led me to his design portfolio, which led to his office visit, which led to a job offer, which continues to lead to a lot of great memories.
Waseem is a student of human-computer interaction, and he brings a common design language and approach to Lessonly, improving usability and delight with every passing day.
Hang with him, and you will feel like this.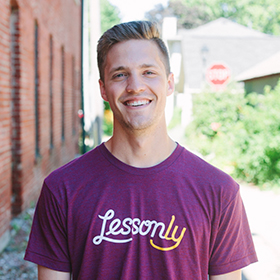 Alex Eaton
Marketing Specialist
I met Alex when he was working for his past employer. I used to tease his boss that I would hire Alex in a heartbeat, if he'd allow me. His response was, "Please, don't."
I promise I respected that feedback; but, eventually, Alex naturally started looking for his next thing, and Lessonly had the perfect role for him. He juggles a lot, between event marketing, product marketing, and all the other things that arise and require somebody with tremendous intellectual dexterity to pull off.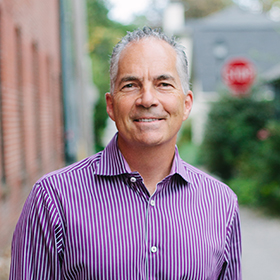 Justin Fite
Chief Sales Officer
We were not looking for a chief sales officer when we met Justin, but you can't meet Justin without wanting to work with him. He brings an unprecedented amount of sales leadership experience to the team. His passion is evident, but the coolest part about him is how cool he is under pressure. I am still working to hone that skill — he makes it look easy!
Justin runs the sales org, while Conner runs the remaining revenue-generating departments.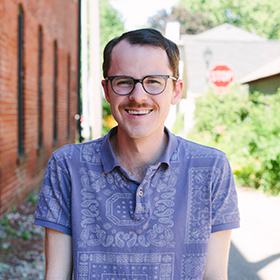 Joe Fitzpatrick
Sales Development Representative
Joe is a comedian. He does either stand-up or improv every night. He brings a similar level of dedication to his day job; he takes the time to understand a company's needs and clearly articulate how we can help—if possible.
I always think of Jerry Seinfeld when I talk to Joe, because, like Jerry, it is very hard to not laugh when he is talking—no matter how serious he is. Sorry about that, Joe. You just ooze hilarity. And I love Jeeves.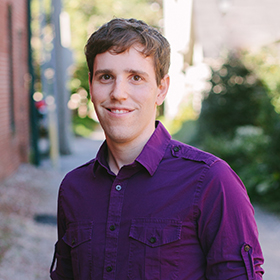 Josh Frankel
Engineer
Josh just became a first-time father to a beautiful baby boy. That boy is alive because of a ping-pong ball that bounced off of a table and ended up between two reaching hands. One hand belonged to Josh, the other belonged to a woman named Megan. Josh did not know Megan before that moment, but now they are married, and she is the mother of his child.
Neat things happen to neat people, and Josh is nothing if not a neat guy. Thoughtful, hardworking, and appreciative of bad and good jokes alike, he joined our four-person engineering team and helped turn it into a stronger one. You can find him at his standing desk, wearing headphones.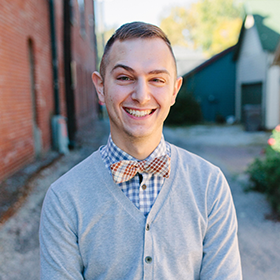 Steve Grossi
Senior Engineer
Steve is a self-taught Ruby guy who studied philosophy in college. I tried to hire him many times in the past, but he repeatedly turned me down out of respect to his former employer, who had, at the time, shown him a tremendous amount of flexibility when he wanted to move from New Jersey to Indiana with his wife, Kate. That's the kind of character I want on this team, so I just kept hounding him for months and months and months.
Eventually, he caved. What an honor it was when he did. What an honor it is to know him.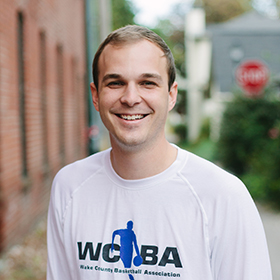 Brett "Hammer" Hamrick
Account Executive
Brett is a bizarre dude (he once ate orange peanut-butter crackers for breakfast every morning, by choice), so he fits in well at Lessonly. His only-child upbringing comes through via his generally reserved nature. But, once you get the guy excited about something (like growing a company or coaching youth basketball), his words come like water from an uncapped hydrant. The thing I like most about Brett is he acknowledges that he is bizarre (we are all bizarre, by the way; some of us just own it and others spend their whole lives anxious about it). Keep owning it, Brett.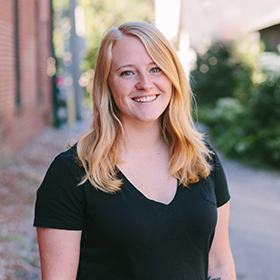 Mikyla Houston
Sales Development Representative
Mikyla caught our attention by taking a slice out of a tree and burning the Lessonly logo into it. She wasn't even an employee yet, and she was already showing her team pride!
Once we hired her, she was super quiet. There's nothing wrong with that, but it has been fun to watch her open up and joke, because she is very witty.
A woman of many talents, she creates stuff like this for fun!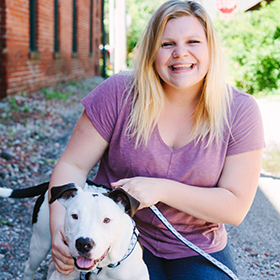 Shannan Kelley
Sales Development Representative
Shannan's energy could power an office building for hours, rain or shine. I have never tested this, but I am pretty certain it is true. She is dedicated to improving every day, and I have loved watching her do it.
She loves her dog a lot, and she brings him by the office a lot so we can enjoy him, too.
Shannan threw hammers competitively in college, which is a pretty awesome thing to write.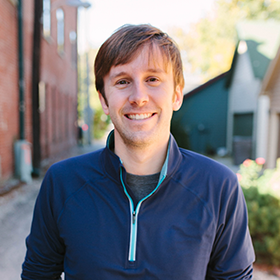 Corey Kime
Director of Client Experience
Corey takes care of our clients, providing them with the resources and guidance they need to achieve their goals. He's married to the uber-talented lawyer Brittany Kime, who has saved us from ourselves more times that I care to admit.
Like a lot of people, Corey has two ears. Unlike a lot of people, he uses them to be a damn-good listener.
If you need someone to tell you the truth, especially when it's hard to ear, find a friend like Corey.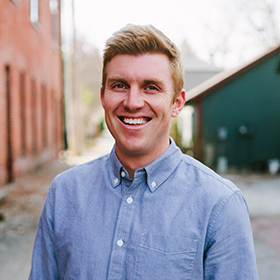 Matt Lubbers
Director of Sales
Matt and I were in the same Orr Fellowship class, which meant we spent a lot of time together right after college. I often told his now-wife, then-girlfriend Claire how one of these days Matt and I were going to work together. I wanted this to happen because he was personable and humble and confident and hardworking, and that's the holy grail of characteristics.
The above attributes, plus five years of sales-management experience, make him the perfect person to lead our sales team.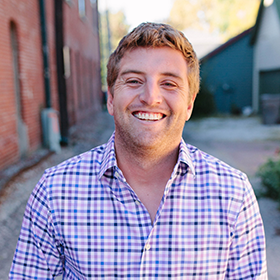 Ross Lubbers
Account Executive
Ross is an Orr Fellow at Lessonly, and he just gets it done. No ego, no talk, all walk. I like people like that a lot. I first met him at a wedding, where he crushed a best-man speech in front of 250 people.
When we landed an interview with him months later, he was just graduating from IU and eager to try sales. Most people do not leave college seeking a sales role, but Ross was one of the enlightened ones. He knew how helpful sales experience would be to the rest of his career, and now we get to watch him take the bull by the horns.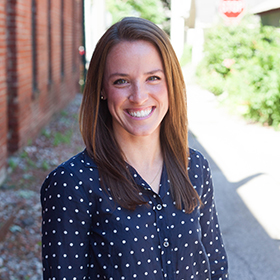 Lucy MacDonald
Client Experience Manager
Lucy used to be a manager of a call center. Take my word for it: that is one hard job. When we interviewed her about it, she consistently found silver linings for all the difficult things that the role brought her way. I am a sucker for that attitude, and she has maintained it ever since.
As of November 2016, Lucy just got engaged to the man of her dreams. Here's to wishing them both a lovely life together.
Zach McFarlen
Director of Brand & Messaging
I've known Zach for about four years. We met during his employment at Studio Science, which is a great brand-experience design firm that brought me to Indianapolis.
Zach has an incredible talent for finding the right words and imagery to transfer Lessonly's message. He spends his days bottling up our spirit and helping the marketing, product, sales, and client experience teams share it.
His kid's names feature prominently in our minute-long overview video (which he created).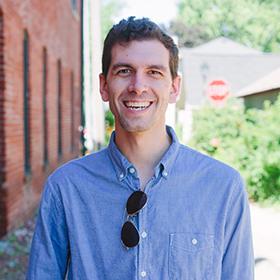 Nick Meyer
Account Executive
Nick is always smiling, just like he is in that picture. His cup runneth over, simply because he refuses to ever feel like it's not. If his spirit does not brighten your day, you are not paying attention.
He lives in my dream house. The problem is, it's his dream house, too, and he has actually paid for it, so bummer for me, but awesome for him.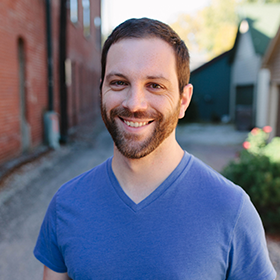 Aaron Milam
Director of Engineering
Aaron once won Settlers of Catan with both the longest road and the largest army. I know; you're thinking, "That never happens!" But, trust me, he did it.
Aaron speaks quickly and quietly, in inspired bursts, often leaving you smarter or happier than you were pre-conversation. Aaron lives with his wife, Noelle.
Technically, we would be lost without him.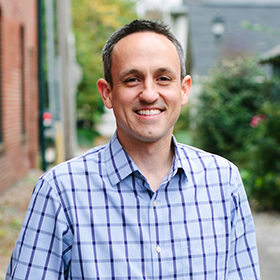 Brian Montminy
Director of Finance
The work we get to do here is pretty amazing. Brian recognizes this outwardly, with genuine enthusiasm and a resolute work ethic; I love those qualities in people.
As the leader of all things finance (and many things sales ops), Brian ensures we aim for the right LTV, CAC, and ARR growth rates—all while not jeopardizing our integrity or culture. He somehow manages to make this pursuit very approachable and human.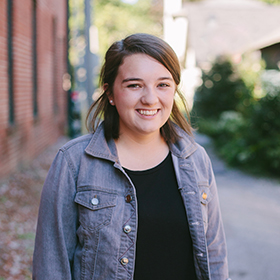 Rosie Newman
Sales Development Representative
Rosie just gets it done. She is a beam of brightness, and she maintains that glow, I've learned, not by ignoring issues as they arise, but by tackling them head on.
She asks all the right questions, and she never apologizes for it, which I love (I am convinced that people do not ask questions simply because they irrationally psych themselves out and convince themselves their questions are silly before they even leave their mouths, leaving them uninformed when they don't need to be). I am super grateful to Rosie for embracing difficult conversations—her attitude is how we win.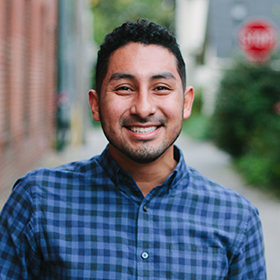 Pierre Perez
Sales Development Representative
A professional singer with infectious cheer, Pierre brings a tremendous amount of energy and focus to Lessonly. As a natural people-person, he is in the right role, helping us connect with leaders who can benefit from our modern LMS.
If you ever catch the Indianapolis Mens' Chorus, Pierre will likely be up there, singing something beautiful. I had the honor of playing songs with him, Rosie Newman, Scott Cook, and Nick Meyer at the 2016 Christmas party, and it was a true privilege to accompany his voice.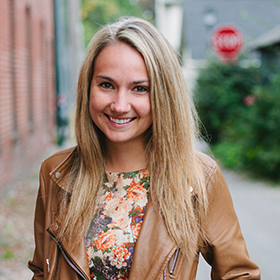 Mallary Pittman
Account Executive
Mallary is a natural-born killer (as in, you give her goals, and she crushes them). You can't teach true, ego-free self-confidence, but you can feel it when it's there. You feel it with Mallary, and you wonder what the world would be like if everyone worked as hard as she did, and carried themselves with the her "I am worth it, and you are, too" mindset.
Every new client Mallary brings aboard tries to hire her in the process. Thankfully, she is yet to accept their offers.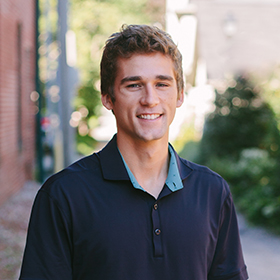 Riley Rapp
Sales Development Representative
I met Riley when he applied for our internship. He came to the interview in a suit. I asked him hard questions, and he was comfortable admitting that he did not know many of the answers, which is a rare but adored quality in my eyes.
Riley has gone on to become a keystone of the company. He is a young, hardworking, humble person who knows how fortunate he is and uses that good fortune for the benefit of those around him.
I hope my yet-to-be-born son is as respectful and driven as he is.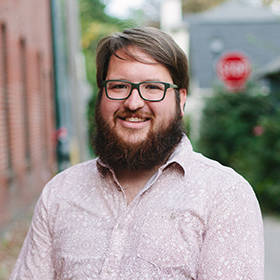 Eric Rees
Content Wrangler
Eric writes with the hopes of helping every company understand the benefits and best practices of employee learning software. He is a perennial go-getter, able to pick up this or that disparate task and capital D Deliver. Case in point: Mitch asked him to own our Instagram account, and he started making us look cooler than we are (love that).
Eric claims he knows nothing about fashion, but my girlfriend keeps commenting on how hip he dresses, so I am going to start saying I don't know anything about fashion either and see what happens. Anyhow, I am proud to work with Eric and want to give a shout out to his parents for crushing it.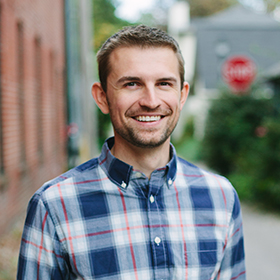 Ross Reinhardt
Developer
Ross gets my "most interesting person" award. He's accomplished so much in such a short period of time, it sorta baffles you. First, he was a professional pilot; then, he became a winemaker; now, he's a software developer. These things don't go hand in hand, but he makes you feel like they do when he talks about them.
Take Ross out to lunch sometime, and don't waste time doing anything but asking questions.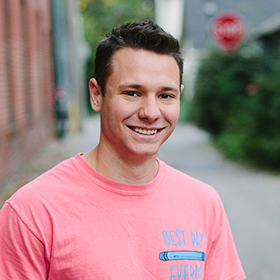 Alec Remaly
Sales Development Representative
I met Alec when he worked for a significant venture firm in Indy. Joining Lessonly and leaving that firm was a risk most people would not take. Frankly, if I were his dad, I imagine I would be like, "Son, are you out of your mind?" Of course, I am glad he's "out of his mind," and I think he made a great choice, albeit not the classically prudent one. Alec wanted to experience things the venture world is removed from, and he risked a comfortable position to do that. He follows through with his decision every day by getting to work earlier than everyone and focusing more diligently in a day than some might in an entire week.
Alec, stay you, my friend. I believe few people live the classically prudent life and end up saying, "Wow, that was a great and wild ride."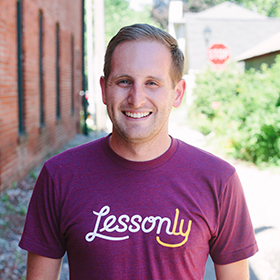 Kyle Roach
Sales Development Representative
Kyle is supremely talented. He has his MBA, he speaks fluent Spanish, and he knows no ego.
When we need a flex player to tackle a new initiative, he is always a good pick, and he never approaches our experiments with anything but a keen eye, a willing heart, and the energy required to give it his best shot.
Before Lessonly, Kyle taught Spanish at the same school my girlfriend's dad, Dan, still teaches at. When we hired him, Dan gave two emoji thumbs up, which is always a good thing.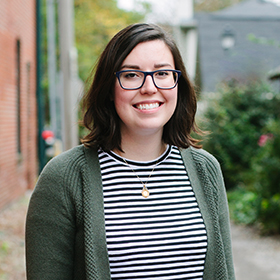 Amber Smith
Front-End Developer
I speak to a group at The Iron Yard every three months about impostor syndrome. Amber was in the crowd during one of those talks, and she contacted me afterward to discuss a front-end role at Lessonly. I invited her to the office and we had such a neat talk about personal life experiences and hopes and fears and a whole host of things that you don't repeat on a meet-the-team page.
As we finished our conversation, I felt confident Amber had the right perspectives for this team, but I challenged her on her ability to grow in her role without getting discouraged (Amber was new-ish to development, while everybody else on the Product team had many years under their belts—that's a brave endeavor for anyone). She assured me she was up for the task, and then she delivered month after month after month. I will always be impressed by stories like Amber's—where you want something, you work for it, and you don't quit until you get it—and I am proud to witness hers.
As you use Lessonly, you can thank Amber and her front-end colleagues anytime you interact with something and think, "That was very cool."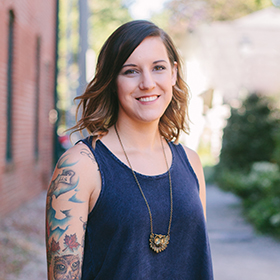 Jenny Tod
Design Lead
Jenny is the reason you see the llama everywhere. She was the first one to take a real crack at designing our mascot, and now it is everywhere—and adored by many.
Jenny's design talents have seriously improved everything about our business. It just feels really good to work at a company that does its best to give every graphic, animation, and marketing piece the visual love it deserves. Jenny brought that reality to bear. She works quickly and still manages consistent elegance in her output.
Did I mention that Jenny has a killer tattoo sleeve? Well she does, and it is beautiful.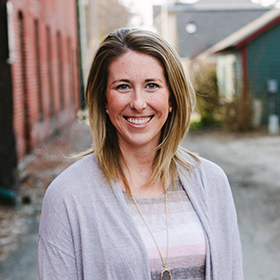 Katie Townsend
Enterprise Account Executive
One time I went out to breakfast with a guy named Mason and forgot my wallet. This was embarrassing since Mason and I were meeting for the first time. He jokingly told me that he would never let me live this down; nine months later, he introduced me to Katie. Three months after that, we hired Katie to lead our partnerships team, which is tasked with growing our reseller and partner networks.
Katie has a big job, but she is cut out for it. She brings amazing sales experience to Lessonly, complete with a heart of gold and a see-around-corners kind of brainpower.
Moral of the story: make Mason pay for breakfast and great things will happen.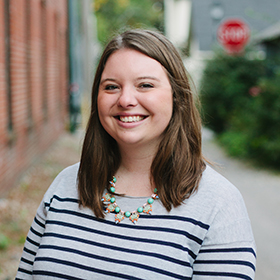 Kelsey Van Loon
Client Experience Manager
No matter how fortunate you are, building a company is messy. Those who can find humor and optimism in every part of the ride have an incredible advantage over those who fit and fuss with each turn.
Kelsey has an incredible advantage, and she passes that advantage on to the clients she cares for and guides. Ask her a question—innane or philosophical—and watch her devote all of her attention to you and the conversation. It's a genuine response, and it will make you feel very special. I'd go as far as calling it a gift.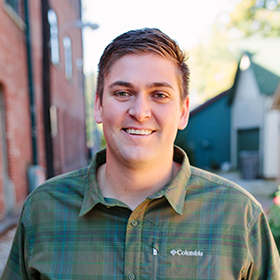 Mike Wendahl
Account Executive
Mike has a knack for calming people down. If I ever get shot, he's going to be the first guy I call to tell me it's going to be okay. Or, maybe, an ambulance, and then Mike.
Mike is married to his better half. Together, they throw great parties.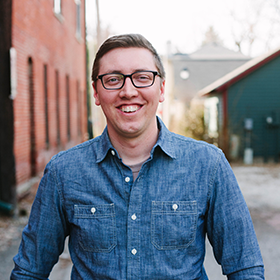 Kyle Werner
Engineer
I started a business before Lessonly that did not go well; Kyle was one of the most active users of that product. Now, we build products together and things are going much better. Coincidence? I think not.
If Kyle emails you with product feedback or guidance, don't hire him (out of kindness to me), but do keep in touch with him. There's no telling how much he might impact your future.
If you get a chance to sit down with Kyle and learn about his adult life, do it. Twists and turns galore that brought a lot of wisdom.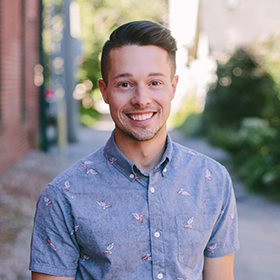 Evan Wible
Account Executive
Evan works with Conner to connect more wonderful companies to Lessonly.
When he proposed to his fiancée, he used one of our office tables as a prop, so I take a lot of credit for her saying yes. Or, maybe it was the fact that Evan is so damn genuine and kind.
Probably a table+character combo.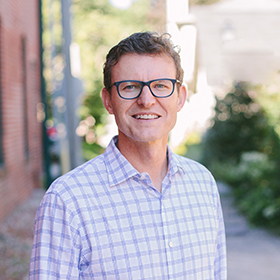 Doug Wilson
Vice President of Product
Doug and I have a bunch of mutual friends, so we'd see each other every now and then around time. Now, he takes care of my dearest inanimate object, Lessonly's software.
Doug is responsible for boiling down all of our internal and external software requests and translating the ones that matter most into super-specific roadmap items. That is no easy task, but he is up to it, and I am super grateful for that.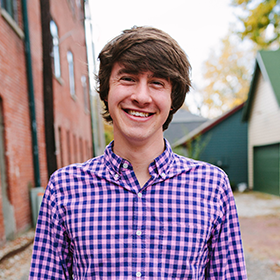 Max Yoder
Co-founder & CEO
Max co-founded Lessonly and started its nonprofit arm, The First Fund. He does whatever the team needs him to do.
Max is currently writing in the third person.