Shortens Training Time and Improves Customer Service Quality with Lessonly
60+
---
Easily Created Lessons
200+
---
Happily Trained Users
4
---
Admin Hours Saved / Class
"Lessonly has been incredibly helpful in allowing us to limit the time wasted on paperwork and admin tasks. We can focus on providing quality training that enables our new advocates to provide excellent customer support. It has also made it faster and easier to help our advocates keep their skills sharp with workshops and process updates."
—Myra McNeill, Service Learning Lead
The Challenge
The Modcloth Customer Care team was growing like a weed; it's training leader, Myra, knew she needed a way to streamline onboarding and foster ongoing education, so she spoke with our sales team and started a free trial.
Myra's account was created in seconds, so she started building lessons right away. Myra enjoyed the Lessonly software, especially its ability to present Prezi presentations within lessons, using just a link. After a bit more testing and some Q&A with our team, she decided Lessonly was the right software to help ModCloth's growing team stay ahead of the curve, while enhancing the quality of her team's customer service.
Myra loved Lessonly's combination of roles and reporting. Modcloth needed assurance that her managers would be able to get reporting for the lessons completed by their employees, while not gaining access to the reporting of other employees. With Lessonly's baked-in roles-based permissions, Myra had the control she needed.
The Process
Myra got to work creating lessons right away, starting with what was most crucial and adding to it gradually over time. She found it incredibly easy to convert her current content into Lessonly lessons.
Once her lessons were ready, Myra used Lessonly's assignment modal to send lessons to new hires and refreshers to legacy team members.
The Results
Myra saves four hours for every new employee class that comes aboard via Lessonly. As she uses Lessonly more, the benefit grows. By using Lessonly to track training, each newly completed lesson is automatically recorded in ModCloth's training gradebook.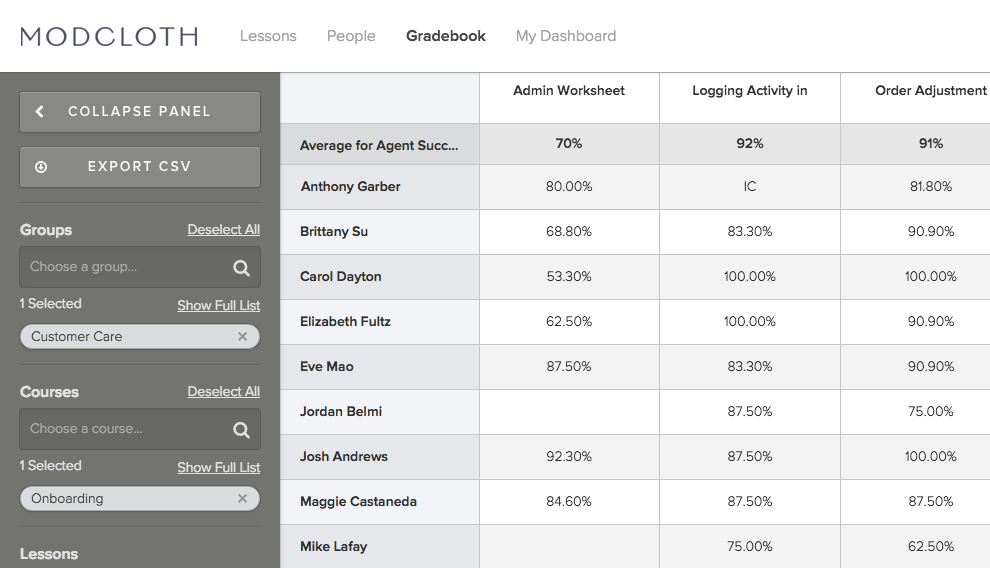 At a glance, she can see who learned what, when they learned it, and how well, without having to tap anyone on the shoulder or send manual reminder emails. It doesn't matter how many more customer service staff are added to the team; with Lessonly, Myra has the tools to bring them aboard quickly and efficiently.